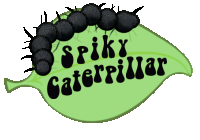 Contact Spiky Caterpillar:
For bug reports, technical support, and game hints, posting on the Science Girls message forum is probably best - someone may already have encountered the same problem you did and gotten an answer or three.
For private communication or to order discs, you can email me at spikycaterpillar_sciencegirlsfeedbackorothercontacts@deekoo.net . Yes, that email address actually works - I made it absurdly long so that spambots will hopefully think that it's a trap and not flood it.
If you need to upload files to me, use the savegame upload page AND post in the forum or email me about it.